4th Grade History Assembly: California Brought To Life
The California Brought To Life program is a 4th grade history assembly designed to give students an in depth understanding of specific events and people who are responsible for shaping California's history. California Brought To Life is a two-part presentation:
PART ONE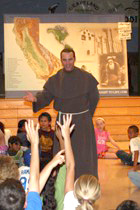 The California Missions
To begin our presentation, the students are visited by a Missionary who served with Father Serra, who is credited as the founder of the California Missions. With the help of student interaction, this Missionary explores the astounding journey from Mexico to San Diego as well as the planning and preparation involved in setting up the very first mission in California. The California Missions were established to spread the Spanish Religion to local natives.
The Missionary will show actual artifacts brought back from several of the missions. Then the presentation kicks into high gear, and with the blink of an eye, we turn to the Gold Rush…
PART TWO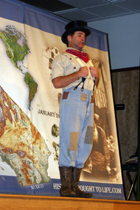 The Gold Rush of 1849
And, to present the exciting and crazy time during 1849 is the person at the forefront of it all, Mr. James Marshall. James Marshall is credited as the first person to discover gold in California. Students will learn of his initial discovery of gold and the events following that changed the face of California forever. Student volunteers get to simulate mining techniques and learn what happens to Claim Jumpers. After the assembly is concluded, students proceed, one group at a time, to pick out a souvenir by panning for their very own piece of California Gold.
Duration of Assembly
The California Brought To Life program is an exciting and interactive 4th grade history assembly that lasts approximately 1 hour long. In addition, the panning (usually one to two classes at a time) takes approximately 20 minutes per group.